Piercing Fees:
Earlobe piercing fee – $20
General piercing fee – $30
Industrial piercing fee – $40
genital piercing fee – $50
Additional piercing fee – $10 (per piercing after the 1st).
-Jewelry is not included in piercing Fee-
Each fresh piercing we provide at Ideal is met with up-to-date procedures and techniques to ensure that you, the client, leave with the security of knowing you were taken care of by the best in sterilization, education, and techniques.
We sterilize all implements and jewelry for each procedure and walk you through each process thoroughly.
Each service fee includes:
A personal consultation to ensure proper anatomy for each piercing, and what to know about your new shiny friend!
Aftercare instructions for your new piercing both verbally and in written form.
A lifetime of service that includes complimentary cleaning, consultation for healing issues, jewelry changes, and answers to any and all questions you may have.
Additional Services: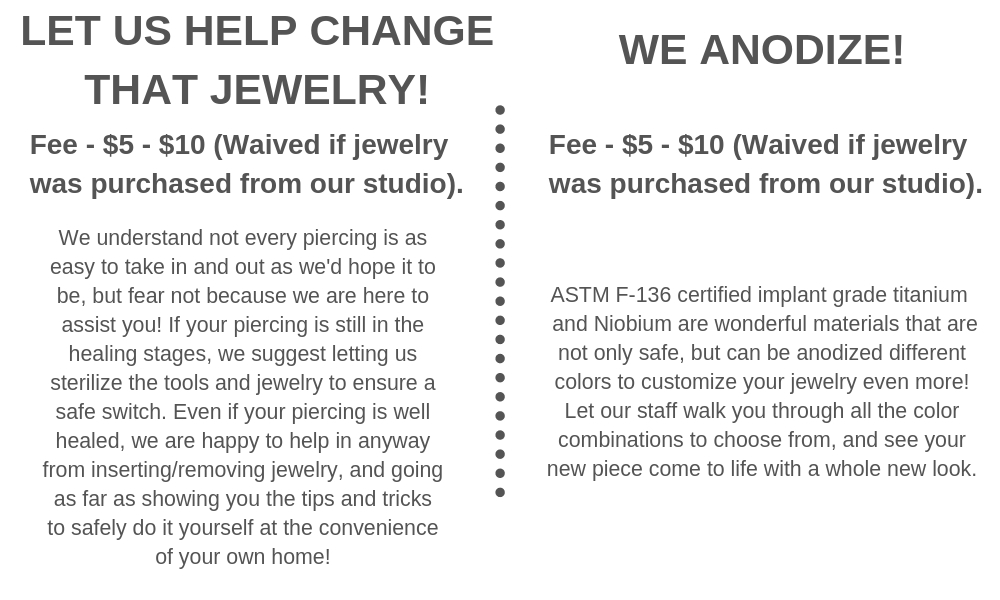 Any other questions?
If you have any questions or comments about anything jewelry/piercing related, please feel free to give us a call at (734)-997-0608 or email us at idealbodypiercing@gmail.com